ISLA BLANCA KITE SPOT
Ikarus kite camp 21.322172, -86.808289
Is very popular with north winds when local riders from all the coast come to catch the wind here, because it is off-shore in most of the Riviera Maya beaches. 
Grass field beach to set up the kites but some rocks on the water entrance. Clean inside, waist-deep water and sandy bottom, no rocks no obstacles. Little choppy and little kickers with strong north wind. Flat when north-east or east-northeast. 
East and south-east wind can be very gusty and lighter….better to go to La punta, 1.5 km ahead.
 For foiling it is usually too shallow,   unless it is north wind or very high tide.  Anyway  Is better to use a short mast (50cm.) and walk out quite a lot to the deep water.
La Punta (el angostura) 21.336934, -86.795336
Is located 1,5 km further up the road, after the public beach road goes to the lagoon side, if you drive further it is even better but be very careful to not get stuck in the soft sand.
Is very good with east and southeast winds but also with north and northeast. Actually is kiteable with all wind directions in the lagoon side and with NE-E-SE, you can kite also on the sea side with choppy wave most days but usually good for foiling.
With east winds that blows offshore in the lagoon , be sure to do not end up too far downwind  in the deep water. Always stay in the shallow and white sandy area , if you cannot stay upwind,  walk back before it s too deep.
With strong north wind or with very high tide, this beach can be partly flooded. Very shallow with low tide, rocks and sticks in some areas
La Punta-punta (the real end point of the peninsula)
Only accessible by boat ride, 30-40 minutes. We can organize tours or kite-trips on request, weather permitting and if wind direction is worth it.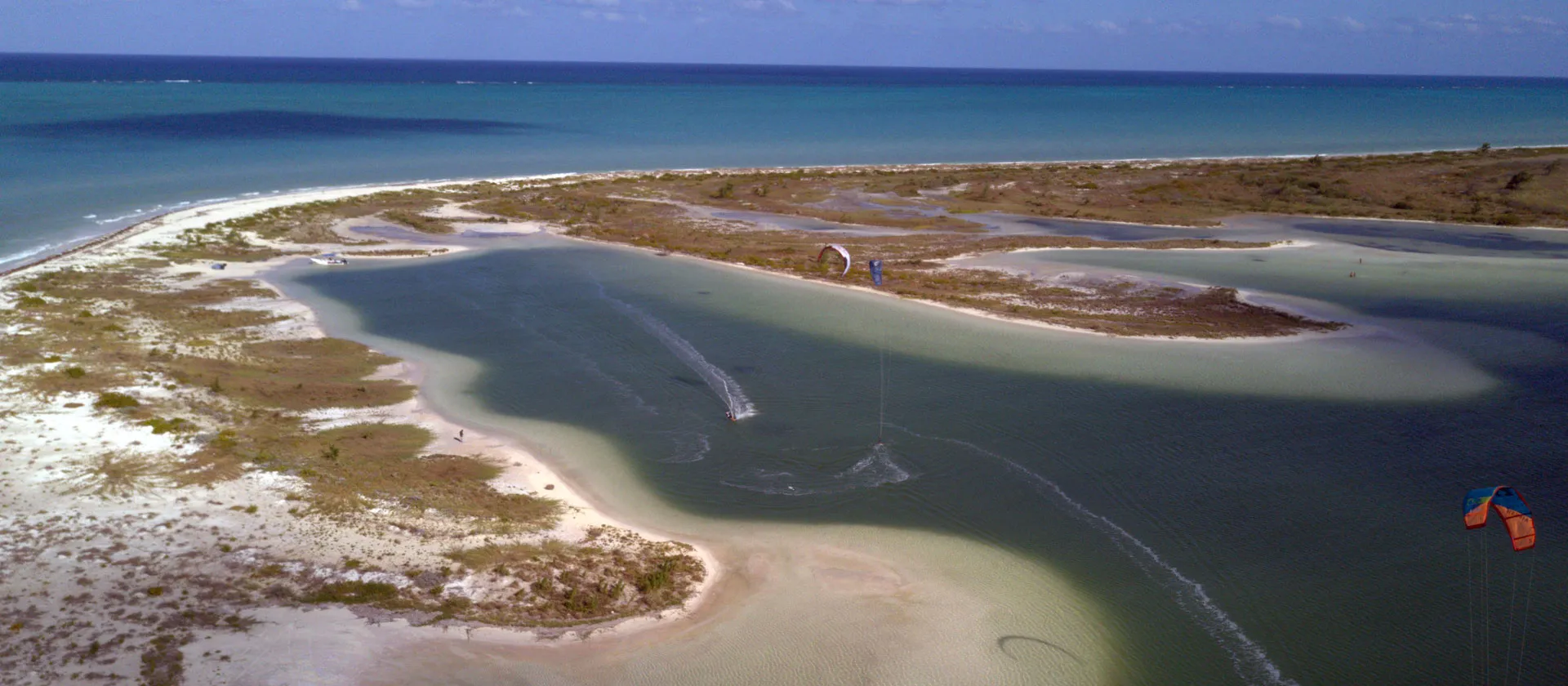 HOW TO COME
From Cancun airport the cheapest way is an ADO (airport-cancun) bus to downtown. Then from downtown a taxi to ikarus will be much cheaper. (1,5 hour)
A taxi or shuttle from the airport will be faster but much more expensive.(1 hour)
Be sure to show them on google map our location. IKARUS KITEBOARDING CENTRE
From Cancun (20-40 min) the easiest way is to follow Av. Bonampak all the way towards north , then this same street turns into a road called PROLONGACION BONAMPAK …a drive between the mangrove, leaving on your right side Puerto Juarez and Punta Sam pass Hotel Villas del Palmar until you arrive to a roundabout with a gas station and a GO-MART , then the Playa Mujeres entrance ( A BIG GATE!)
Next right you find a paved road. You follow that paved road all the way with the golf course on your right until there's a roundabout where there starts a new paved road. You follow this road, pass the roundabout of costa mujeres , keep going straight pass all the big hotels until it becomes a dirt road.
(Be sure not to take the paralel road on the right that goes to the entrance of the new hotel Riu Dunamar).
Drive 3 kms of dirt road until you find an IKARUS sign on your left, and a big blue post on your right! You turn left and follow the sandy road until the end, and you've arrived! We are on the lagoon side!
If you are driving, be careful to follow the speed limit,we have many wild animals that could be crossing the road and Police with radar checking speed are often hunting who speed-up..
The Public Transport minibus stop in Cancun is at the corner with Av. Tulum and Av. Lopez Portillo next to the farmacia CANTO. You take the minivan white and red that says Isla Blanca….minibus schedule should be 7 am, 11 am, 4 p.m. and back half an hour later
If you take a taxi, just say Ikarus – Isla Blanca (almost at the end) , 3 km after Hotel RIU Dunamar . Just in case you miss our entrance after 1 mile the dirt road ends on the beach and you cannot go further.
WHEN TO COME
best winds starts in January and ends May.
Windy Season NOVEMBER to JUNE
November to March is called (TEMPORADA DE NORTES) winds are affected by north fronts coming from North America … , winds from the north can be strong (35+kts) and cold (3/4 full wetsuit suggested). especially the first 2 days , first wind come from N-W , than from the NORTH then switch clockwise ..N-E, EAST, S-E, and losing usually power and getting warmer , until another Norte comes in.
Normally nice warm south-east wind blows the days before before the north comes.
we normally use 8mt ,12mt, 15mt kites for average 70 kg rider
During winter October to March some days with north winds temperature can go down to 12 grades Celcius and winds from 12 to 35 kts but can get strong as 45 kts.
When south-east temperature can be from 18 to 27 and wind 12 to 25 with gusts up to 30 kts some days
CANCELATION POLICY FOR ACCOMODATION
CANCELLATIONS
Only cancellations made by e-mail will be recognized.
Your reservation payment will be refunded (less 50 us dls administration costs) if you cancel 60 days before your initial lodging date.
50% of your reservation payment will be refunded (less 50 us dls administration costs) if you cancel between 60 and 30 days before your initial lodging date.
Your reservation payment will not be refunded if you cancel between 30 days and your initial lodging date.
This cancellation policy does not apply to official holidays, and during the following periods no refunds will be paid: Thanks Giving's Day, Christmas and New Year, Easter week.
Thanks.
CANCELATION POLICY FOR LESSONS
RAIN CHECK POLICY

It is our policy that all lessons are prepaid upon booking to assure a time slot and a position with an instructor, equipment and/or Personal Watercraft. In the event of a postponement or a cancellation, you will be rescheduled for the earliest available lesson slot.

Lessons that are cancelled due to the weather will be issued a rain check equal to the value of the lesson and will be valid for indefinite time and can be transferred to someone else. Rain Checks can be redeemed for lessons or equipment at Ikarus Kiteboarding.

No show and/ or no call will result in no refund and no rain check. It is our goal to get you riding and we will do everything possible to get you out there.

CANCELLATION POLICY

All lessons can be cancelled or rescheduled up to 24 hours before the scheduled lesson time with no penalty. Lessons cancelled or rescheduled within 24 hours of the lesson will be charged a $70 us reschedule fee. Cancelled lessons will be issued a Rain Check for the amount of the lesson price.
GENERAL INFO
Windy Season NOVEMBER  to JUNE 
Other kite spots in Cancun
Punta Nizuc.
21.045334, -86.767917
Intermediate
East / south-east. Shade, parking, small beach, shallow, flat little chop Warning parking lot is not safe don t leave valuables in the ca
Hotel zone
between punta Cancun 21.139488, -86.743187 and Playa Delfines (El Mirador) 21.066961, -86.772358
Northeast east-southeast
Only for expert riders
Warning hotels have many buoys to limit the swimmers area
Strong rip current violent beach break no good when straight onshore wind
Playa Delfines
21.066961, -86.772358
SHOREBREAK Waves best with north-northeast, east, south-east expert-intermediate
Strong rip current violent beach break no good when straight onshore wind
other kite spots along the coast
Playa del Carmen
Only one beach available at the north of coco beach, for advanced and experts.   bump-wire fence on the small beach:
Cozumel
North-west coast for north winds and east coast for west winds and waves
Xpu-Ha
One of the most beautiful beaches, a small bay with a lot of tourists on the beach and reef in the water only for experts
Tulum and south of Tulum
Miles of idyllic beaches, good with north-east, east, south-east (ADVANCED).  Choppy and waves 
El Cuyo
Good for nortes and from april to september you can find a nice thermal breeze in the afternoon when is sunny
Isla Holbox
Beautiful quiet island, good with north and north east…the are kite regulations on the island and designated areas. (BEGINNERS)
All the Gulf coast from el Cuyo to Progreso has very nice thermal wind during spring and especially during summer when sunny (BEGINNERS ) further towards Progreso the thermal gets stronger.
——————————————————————————————————-
WAVES
Swells comes between nov to may after strong north fronts or after several days of GOOD southeast 
Between June to November swells are only for hurricane passing by
Surfing beaches are Playa Delfines and Playa Chackmool
Wetsuit 3/4 or 5/4 long sleeves suggested from November to March especially when the north wind blows
No wetsuit after March or a shorty is enough.
Nov to march Depending on north fronts 10kts to 35 knots
April Still can have few north winds but less strong south-east is prevalent 12 to 25 knots
May. East and Southeast 10 to 25 knots
June to November Most days is very calm
depending on the year you can be lucky and get a few days of wind maybe because of a storm or hurricane nearby kite carefully with storms and tornadoes during this season
Why visit
For his temperate climate during winter and spring and good winds in season
For the shallow flat water ideal for beginners and freestylers
Kiteable with less wind than on the seaside due to the lack of currents and chop,
Kiteable with any wind directions
For the wild nature, it's a mangrove protected area with many birds and crabs.
For the Mexican culture, food, drinks, and traditions
For the ancient ruins of the area
For the beauty of the coast and sea
For diving and snorkeling
For visiting cenotes
For chilling out
Warning and danger
Few Sting rays especially during late spring,
Very very shallow water with low tide and few small rocks isolated
Stay near the beach with east wind (offshore) in case of emergency self-rescue and recover the kite before it gets too deep.
The Shallow area is big …stay there
Police patrol check speed limit on the road, follow the limit signs.
Getting around
Food and drinks
Restaurant at Ikarus kite camp , Fresh italian pasta, salads, Mexican food, tacos, fish, chicken, shrimps, Vegetarian, Vegans, Fruit Bowls, good coffees and cappuccinos  
Restaurant marina el cayo Fried fish , seafood, ceviches
Other restaurants are in Punta Sam and Puerto Juarez
(check restaurant Flamingos for grilled seafood and Puerto Santo for a nice dinner on the beach)
You can find popular typical seafood restaurants of ceviches and fried fish, in Puerto Juarez next to Playa el Niño.
hundreds of restaurants and bars in Cancun downtown and hotel zone for all the tastes.
Nightlife
No nightlife at Isla Blanca unless there's a bonfire on the beach
Cancun hotel zone is 20 minutes away with a lot of nightlife for all tastes
No wind
Paddleboarding or kayaking the lagoon, tow foiling 
Mayan ruins (Chichen Itza, Tulum, Coba,…. there are too many.) The ruins of El Meco is close to Isla Blanca in Punta Sam  
Cenote ( beautiful sinkholes and caves with crystalline waters usually surrounded with luxury vegetation )
Diving a snorkeling in the second biggest coral reef in the world
Visit Isla Mujeres and Isla Contoy
Boat Tour in the lagoon you can visit la Laguna del Manati, sail into mangrove channels, see crocodiles and birds, visit Boca Iglesia with the  ruins of the first church in Mexico built by the Spanish in 1570
Flyfishing in the lagoon

May to August  – Whale shark tours

Bird watching

Book reading

Visit colonial towns as Valladolid – Izamal  –

Nearest Airports
Airport Name (Airport Code) – CANCUN (CUN)
Transfer Time
Full School Name*: IKARUS KITEBOARDING
webpage : www.kiteboardmexico.com
Facebook Page URL*: https://www.facebook.com/IKARUSKITEBOARDING
Instagram URL: IKARUSKITEBOARDING
YouTube Channel URL: https://www.youtube.com/user/ikaruskiteboarding
internet
WI-FI  FREE
Cell phone signal also is not very good in all the area
Accommodation
Few fancy houses for rent are available in the area.
Few km away you can find many new big hotels of costa mujeres  RIU DUNAMAR, MAJESTIC, PLANET HOLLYWOOD, RIU LATINO, CATALONIA, GRAND PALLADIUM 
At 14 km there is the entrance of a few big nice villas and hotels.
High price
Hotel finest playa Mujeres
Hotel excellence playa Mujeres
Hotel la Amada (the beloved) playa Mujeres
Medium price
Hotel villas del palmar
Professional kite repair available with Dr-Kite Cancún
Have a nice windy day
ॐ
IKO STUDENT STANDARD
Student's standards
Kiteboarder level 1
The following tables are a detailed explanation of the different skill levels that you can achieve.
The certification standards have been designed to:
– validate your levels, from your first body drag to your first jump,
– allow instructors to know exactly what you have learned and from what point to take up your training,
– allow kiteboarding centers to know exactly what kind of equipment you are capable of renting.
DISCOVERY KITEBOARDER PROGRAM
Level Competences
A-1
Carry and set up the lines and kite.
Determine the wind direction and upwind and downwind (windward, leeward).
Fly a small kite (inflatable, stunt kite, foil.) on the wind window edge and maintain it close to the ground.
Know how to stop the kite power in case of a problem by releasing the bar. Be aware that the kite leash must be worn at all times, before kite launching and until landing.
B-1
Be aware of the area where the kite can fall downwind to the pilot.
Recover the kite on land.
Position the kite on request from 9 to 3 o'clock on the wind window edge.
Launch a kite with an assistant and choose the right angle to the wind.
Fly the kite in the power area without crashing it.
Twist and untwist the lines while the kite flies.
Recover a kite and secure it on land.
Land a kite with the help of an assistant.
C-1
Fly a kite hooked to the harness.
Pilot hooked to the harness with one hand.
Activate the harness release system or quick release located on a leader line.
D-1
Perform a downwind course by body dragging and using the power of the kite.
E-1
Relaunch a kite from the water.
Wind the lines in the water and recover the kite.
Perform a self-rescue in deep water.
Launch a kite alone on land.
Identify potential wind obstacles creating lift or down draft and be able to define the wind direction. Understand that practice with onshore wind is dangerous.

INTERMEDIATE KITEBOARDER PROGRAM
Level Competences
F-2
Define if the practice area is safe for practice.
Set up and check the equipment alone (kite, line, control bar).
G-2
Go away from the shore (with side-shore and side-on-shore wind) while body dragging, go downwind and come back to the shore.
In the water, pilot a kite with power from one side of the wind window to the other, passing by the power area. The pilot must be able to perform while piloting the kite at different heights from the water.
Perform the previously mentioned exercise while piloting with one hand.
H-2
Know the water start theory: board and body positioning, kite piloting.
Recover the board in deep water and position the feet in the foot-straps and keep the position while flying the kite.
I-2
Stand up on the board and ride while moving the kite up and down.
Tie the board leash alone.
Set up a 4 line kite alone and check that it is properly done. Obligatory at this point if it hasn't been done before.
Fly 4 line kite.
Activate the safety systems of a 4 line bar (power loop, leash).
Adjust a four-line kite while using the power loop.
Adjust the trim system of a 4 line kite to avoid it to fly backward or to adjust the power.
INDEPENDENT KITEBOARDER PROGRAM
Level Competences
J-3
Know the right of way rules.
Ride away from the shore and come back to the shore.
K-3
Edge on the heel and toe side to change the course.
Accelerate by edging down and moving the kite.
Stop by edging.
Be able to keep an edge.
L-3
Ride away from the shore and come back at the starting point. Ride upwind.
Constantly ride upwind.
M-3
Recover the board without the leash, by body dragging upwind.
Ride a twin tip. Optional if it has been done before.
Switch of direction.
N-3
Know the theoretical approach to jumps.
Perform a small jump and land it.
SAFETY AND DANGERS
STING RAYS are often around, if you get stung you need to submerge your foot in very hot water to neutralize the poison of the protein injected , for about one hour. Is very painful but usually pain disappear after one-two hours.
SCORPIONS there are scorpions around as in all mexico, the one in this area are not very dangerous the stung just is little painful and can produce cotton-mouth and light buzzy effects
SNAKES we have few around but they are mostly friendly and not dangerous boas and green snakes…
CROCODILES  lives in remote areas of the lagoon, be sure not to end up far away downwind when off-shore , in many years we didn t see many
MOSQUITOS at sunset they can be very annoying, during the day if there is now wind we can have no-see-hum, tiny mosquitos.
TRAFFIC POLICE they are hiding to get you speeding the limit, be careful.